LS021 - Foggy Numbers
This is the twenty-first puzzle in Professor Layton and the Last Specter. To access this puzzle, you must talk to Mr Browne. In order to solve this puzzle, you must use the clues provided to correctly arrange the numbers on the sign. After completing this puzzle, you will receive the Quiet Crossing level for the Fish mini-game.
[edit]
Messages
[edit]
When Failed
Too bad!
If you don't have the foggiest, try reading the information again.
[edit]
When Completed
Mist-ery solved!
978564231
What on earth could this sign be referring to? It's a bit too long for a house number or street address...
[edit]
Solution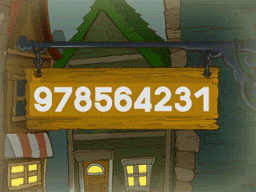 Arrange the numbers as shown.
[edit]
Progress
750 Picarats and 111 Hint Coins.