LS022 - Paper Pair
This is the twenty-second puzzle in Professor Layton and the Last Specter. To access this puzzle, you must examine the desk. In order to solve this puzzle, you must cut the paper into two identical shapes.
[edit]
Messages
[edit]
When Failed
Too bad!
Are you off a bit somewhere?
[edit]
When Completed
Correct!
If you cut as shown and flip one of the pieces over, both pieces will be the same shape.
[edit]
Solution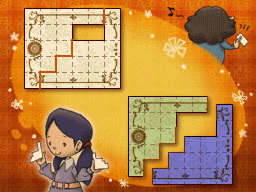 Cut the paper as shown.
[edit]
Progress
780 Picarats and 111 Hint Coins.