LS023 - The Cracked Clock
This is the twenty-third puzzle in Professor Layton and the Last Specter. To access this puzzle, you must talk to Chippe. In order to solve this puzzle, you must figure out where the clock was split, making sure the numbers of each side add up to the same number.
[edit]
Messages
[edit]
When Failed
Too bad!
Try again. It's a matter of careful calculation...
[edit]
When Completed
Precisely!
The clock face split in a line between 9 and 10 on the left and 3 and 4 on the right.
[edit]
Solution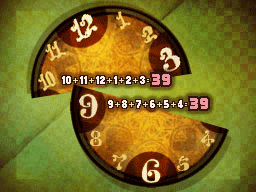 Divide the clock as shown.
[edit]
Progress
810 Picarats and 111 Hint Coins.