LS028 - Black and White Cats
This is the twenty-eighth puzzle in Professor Layton and the Last Specter. To access this puzzle, you must talk to Hugo. In order to solve this puzzle, you must fill the grid with cats, making sure that no more than two of the same colored cat are next to each other in a row or column.
[edit]
Messages
[edit]
When Failed
Too bad.
Start by looking at the paperweights that have already been placed on the grid.
[edit]
When Completed
Correct.
There was no rule about having an uneven number of black cats and white cats!
[edit]
Solution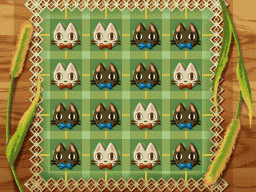 Arrange the cats as shown.
[edit]
Progress
995 Picarats and 111 Hint Coins.