LS034 - Apple Picking
This is the thirty fourth puzzle in Professor Layton and the Last Specter. To access this puzzle, you must examine the cart. In order to solve this puzzle, you must place the apples in the baskets according to the requirements.
[edit]
Messages
[edit]
When Failed
Too bad!
Don't get stuck trying to go about this in one particular way.
[edit]
When Completed
Correct!
Put two apples each in the large and medium baskets. Then put one apple in the small basket and move it into the large basket. That does it!
[edit]
Solution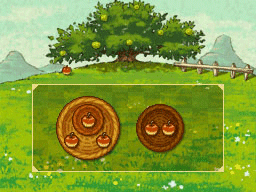 Place the apples as shown.
[edit]
Progress
1250 Picarats and 129 Hint Coins.