LS037 - Seven Coins
This is the thirty seventh puzzle in Professor Layton and the Last Specter. To access this puzzle, you must talk to Badger. In order to solve this puzzle, you must move one coin so that there is an even amount of heads-up coins and tails-up coins.
[edit]
Messages
[edit]
When Failed
Too bad!
Try thinking this puzzle over a little more.
[edit]
When Completed
Ka-ching!
If you flip a coin over to show its tail side and place it over a coin showing a head, the number of heads and tails visible will be equal.
[edit]
Solution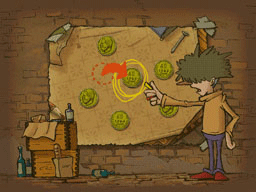 Move the coins as shown.
[edit]
Progress
1375 Picarats and 138 Hint Coins.