LS038 - Flip Maze
This is the thirty eighth puzzle in Professor Layton and the Last Specter. To access this puzzle, you must talk to Louis. In order to solve this puzzle, you must guide the ball through the double-sided maze to reach the exit.
[edit]
Messages
[edit]
When Failed
You cannot fail this puzzle.
[edit]
When Completed
A-maze-ing!
It seems that we may be a step closer to finding the black market!
[edit]
Solution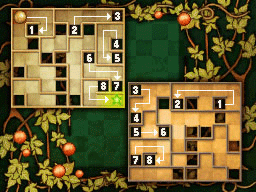 Take the route as shown.
[edit]
Progress
1415 Picarats and 138 Hint Coins.