LS041 - Stargazing
This is the forty-first puzzle in Professor Layton and the Last Specter. To access this puzzle, you must talk to Louis. In order to solve this puzzle, you must arrange the glass pieces to see a star.
[edit]
Messages
[edit]
When Failed
Too bad!
Take a good, close look at those two pieces of glass.
[edit]
When Completed
Correct!
Overlapping the two pieces of glass just so creates a darker area in the shape of a star.
[edit]
Solution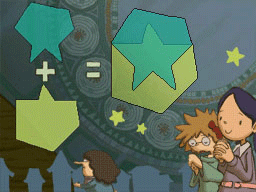 Arrange the glass pieces as shown.
[edit]
Progress
1960 Picarats and 213 Hint Coins.