LS044 - Family Portraits
This is the forty-fourth puzzle in Professor Layton and the Last Specter. To access this puzzle, you must talk to Chippe. In order to solve this puzzle, you must put the portraits in chronological order, making sure each adjacent portrait shares one feature between them.
[edit]
Messages
[edit]
When Failed
Too bad!
They would be mortified if they knew you'd mixed up their portraits!
[edit]
When Completed
Dad's right!
I wonder what features they share with the current generation.
[edit]
Solution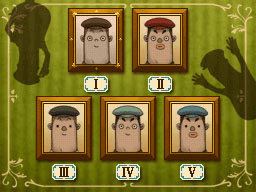 Arrange the portraits as shown.
[edit]
Progress
1645 Picarats and 168 Hint Coins.