LS045 - Sign Flipper
This is the forty-fifth puzzle in Professor Layton and the Last Specter. To access this puzzle, you must examine the sign. In order to solve this puzzle, you must flip all the sign's panels the right way up.
[edit]
Messages
[edit]
When Failed
You cannot fail this puzzle.
[edit]
When Completed
Correct!
One possible solution is the touch the panels in the following order: center, top right, top left, bottom left, bottom right.
Just in time for a cup of tea!
[edit]
Solution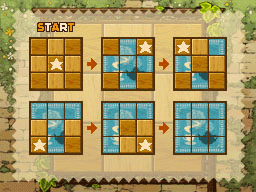 Flip the panels as shown.
[edit]
Progress
1675 Picarats and 174 Hint Coins.