LS046 - Overgrown Garden
This is the forty-sixth puzzle in Professor Layton and the Last Specter. To access this puzzle, you must examine the forest entrance. In order to solve this puzzle, you must start from one of the starting points, stepping on every tile in numerical order from 1 to 8.
[edit]
Messages
[edit]
When Failed
Too bad!
Did you pass through every single series in numeric order from 1 through 8?
Did you end one series on an 8 before starting the next series on a 1?
[edit]
When Completed
Correct!
By starting at the entrance on the left side of the garden, it's possible to step through every series in order.
Head on to Barde Manor!
[edit]
Solution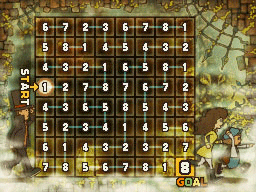 Take the route as shown.
[edit]
Progress
1745 Picarats and 183 Hint Coins.