LS054 - It's in the Bag
This is the fifty-fourth puzzle in Professor Layton and the Last Specter. To access this puzzle, you must examine the desk on the right. In order to solve this puzzle, you must rearrange the pieces to create a different item.
[edit]
Messages
[edit]
When Failed
You cannot fail this puzzle.
[edit]
When Completed
Correct!
Professor Layton simply wouldn't look like himself without his tall silk hat.
[edit]
Solution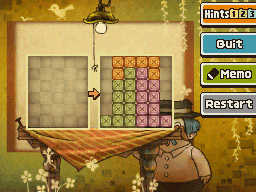 Arrange the pieces as shown.
[edit]
Progress
2125 Picarats and 228 Hint Coins.