LS057 - Right the Routes
This is the fifty-seventh puzzle in Professor Layton and the Last Specter. To access this puzzle, you must examine the bus stop. In order to solve this puzzle, you must add in two vertical lines at intersections to correct the map.
[edit]
Messages
[edit]
When Failed
Too bad!
Are you sure you didn't miss something?
[edit]
When Completed
Correct!
Actually, there are two correct solutions to this puzzle. If you haven't found both, try to work out the other one!
[edit]
Solution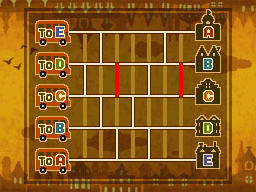 Draw the lines as shown.
[edit]
Progress
2245 Picarats and 243 Hint Coins.