LS066 - Sorting Artifacts
This is the sixty-sixth puzzle in Professor Layton and the Last Specter. To access this puzzle, you must examine the center cave. In order to solve this puzzle, you must sort the runes into their correct groups.
[edit]
Messages
[edit]
When Failed
Too bad!
That's not the correct answer. Try looking at the runes again.
[edit]
When Completed
Correct!
The runes are divided into two groups: the ones on the left can be written in one pen stroke without lifting the pen or retracting the line, and the ones on the right can't.
[edit]
Solution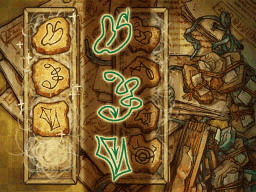 Arrange the runes as shown.
[edit]
Progress
2550 Picarats and 264 Hint Coins.