LS068 - The Cat in the Maze
This is the sixty-eighth puzzle in Professor Layton and the Last Specter. To access this puzzle, you must talk to Hugo. In order to solve this puzzle, you must use the fish to guide the cat out of the maze. After solving this puzzle, you will receive the course Hugo's Troubles for the Train mini-game.
[edit]
Messages
[edit]
When Failed
You cannot fail this puzzle.
[edit]
When Completed
Correct!
You used six fish to rescue the cat. She must be a very full kitty now!
[edit]
Solution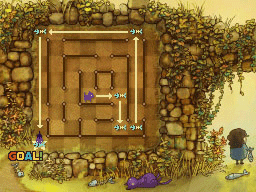 Place the fish as shown.
[edit]
Progress
2615 Picarats and 264 Hint Coins.