LS070 - Good Neighbors
This is the seventieth puzzle in Professor Layton and the Last Specter. To access this puzzle, you must talk to Dominica. In order to solve this puzzle, you must arrange the roofs and houses in the correct positions, satisfying the details.
[edit]
Messages
[edit]
When Failed
Too bad!
Try using the Memo function while you think this through.
[edit]
When Completed
Splendid!
Starting from the west is C's house, with a blue roof, A's house with a yellow roof, and finally B's house with a red roof.
[edit]
Solution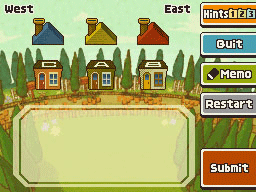 Arrange the houses and roofs as shown.
[edit]
Progress
2685 Picarats and 264 Hint Coins.