LS074 - Emergency Lighting
This is the seventy-fourth puzzle in Professor Layton and the Last Specter. To access this puzzle, you must talk to Bobbi. In order to solve this puzzle, you must arrange the lamps so that each square is lit.
[edit]
Messages
[edit]
When Failed
You cannot fail this puzzle.
[edit]
When Completed
Correct!
The warm glow of lamplight is quite nice to have every once in a while, isn't it?
[edit]
Solution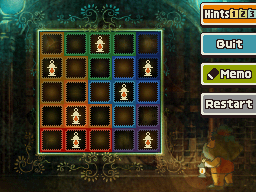 Arrange the lamps as shown.
[edit]
Progress
2845 Picarats and 264 Hint Coins.