LS082 - Block Ostrich
This is the eighty-second puzzle in Professor Layton and the Last Specter. To access this puzzle, you must talk to Rosa. In order to solve this puzzle, you must rearrange the pieces to create an ostrich.
[edit]
Messages
[edit]
When Failed
You cannot fail this puzzle.
[edit]
When Completed
Correct!
Squawk! That ostrich looks as if it's ready to set off running, doesn't it?
[edit]
Solution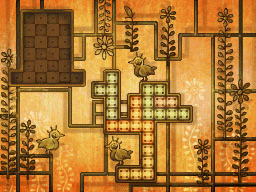 Arrange the pieces as shown.
[edit]
Progress
3275 Picarats and 264 Hint Coins.