LS084 - Sixteen Tulips
This is the eighty-fourth puzzle in Professor Layton and the Last Specter. To access this puzzle, you must talk to Augustus. In order to solve this puzzle, you must make all the tulips in the flower bed come into bloom.
[edit]
Messages
[edit]
When Failed
You cannot fail this puzzle.
[edit]
When Completed
Correct!
Watering the flower bed as shown above will fill it with tulips!
Although now that your garden is full, you'll have to work out how you're going to water all those flowers for the rest of the summer...
[edit]
Solution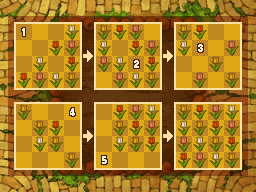 Water the flowers as shown.
[edit]
Progress
3350 Picarats and 264 Hint Coins.