LS087 - Flip Maze 2
This is the eighty-seventh puzzle in Professor Layton and the Last Specter. To access this puzzle, you must talk to Hans. In order to solve this puzzle, you must guide the ball through the double-sided maze to reach the exit.
[edit]
Messages
[edit]
When Failed
You cannot fail this puzzle.
[edit]
When Completed
A-maze-ing!
That was a lot of work, eh? You deserve a glass of lemonade and some cake.
[edit]
Solution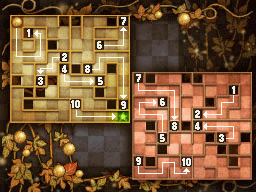 Take the route as shown.
[edit]
Progress
3515 Picarats and 264 Hint Coins.