LS089 - Proper Storage
This is the eighty-ninth puzzle in Professor Layton and the Last Specter. To access this puzzle, you must examine the box of wine bottles on the left. In order to solve this puzzle, you must correctly store the wine bottles, following the requirements.
[edit]
Messages
[edit]
When Failed
Too bad!
Perhaps you should check the rules again.
[edit]
When Completed
Well done!
The bottles may be placed as shown in the two diagrams.
Who would have thought that sorting wine was so complicated?
[edit]
Solution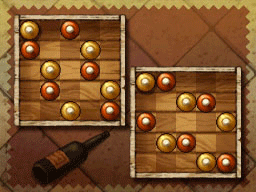 Store the wine bottles as shown.
[edit]
Progress
3610 Picarats and 273 Hint Coins.