LS090 - Puppet Master
This is the ninetieth puzzle in Professor Layton and the Last Specter. To access this puzzle, you must talk to Rosa. In order to solve this puzzle, you must rearrange the pieces to create a puppet head.
[edit]
Messages
[edit]
When Failed
You cannot fail this puzzle.
[edit]
When Completed
Fantastic!
You really took control of this puzzle, but that's quite a scary puppet!
[edit]
Solution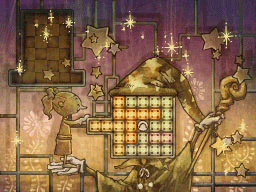 Arrange the pieces as shown.
[edit]
Progress
4795 Picarats and 279 Hint Coins.