LS091 - Evacuate!
This is the ninety-first puzzle in Professor Layton and the Last Specter. To access this puzzle, you must talk to Greppe. In order to solve this puzzle, you must arrange the people so their shouts can be heard throughout the neighborhood. After completing this puzzle, you will receive the Undersea Pipes level for the Fish mini-game.
[edit]
Messages
[edit]
When Failed
You cannot fail this puzzle.
[edit]
When Completed
Correct!
Commend your helpers on a job well done!
Placing the people as shown above is just one way to get the evacuation message out to the entire neighborhood. Can you work out the other methods?
[edit]
Solution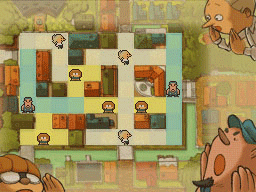 Arrange the people as shown.
[edit]
Progress
3660 Picarats and 273 Hint Coins.