LS093 - Escape Route
This is the ninety-third puzzle in Professor Layton and the Last Specter. To access this puzzle, you must try to leave the area. In order to solve this puzzle, you must grab the key and make it to the exit without alerting any of the policemen.
[edit]
Messages
[edit]
When Failed
Too bad!
Try again. The trio must escape without alerting the guards!
[edit]
When Completed
Correct!
The group has made it to the exit with the key and without being detected by the guards! Now they can escape the police station!
[edit]
Solution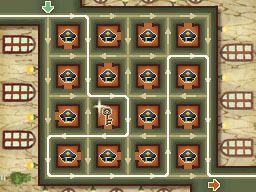 Take the route as shown.
[edit]
Progress
3730 Picarats and 276 Hint Coins.