LS094 - Policing the Streets
This is the ninety-fourth puzzle in Professor Layton and the Last Specter. To access this puzzle, you must talk to Hans. In order to solve this puzzle, you must arrange the policemen on the junctions so that they share a view of every pavement in the town.
[edit]
Messages
[edit]
When Failed
Too bad!
The streets aren't quite safe yet.
[edit]
When Completed
Well done!
No street is left uncovered if the four guards stand at the points shown on the map.
[edit]
Solution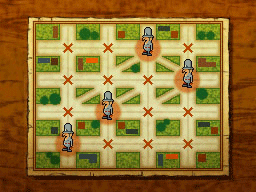 Arrange the policemen as shown.
[edit]
Progress
3770 Picarats and 276 Hint Coins.