LS101 - Square Goldfish
This is the one hundred and first puzzle in Professor Layton and the Last Specter. To access this puzzle, you must talk to Marion. In order to solve this puzzle, you must divide the fish into four pieces, rearranging the pieces to create a square.
[edit]
Messages
[edit]
When Failed
Too bad!
The pieces must fit together cleanly and form a perfect square.
[edit]
When Completed
Correct!
If you cut the toy as shown, the pieces can be arranged to form a square.
[edit]
Solution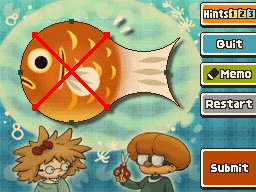 Divide the fish as shown.
[edit]
Progress
4030 Picarats and 279 Hint Coins.