LS106 - Apple Bounce
This is the one hundred and sixth puzzle in Professor Layton and the Last Specter. To access this puzzle, you must talk to Charlie. In order to solve this puzzle, you must lay down trampolines to help the apples safely reach the basket, without them hitting a wall or the ground.
[edit]
Messages
[edit]
When Failed
You cannot fail this puzzle.
[edit]
When Completed
Well done!
There are a number of ways to solve this puzzle. See how many you can find!
[edit]
Solution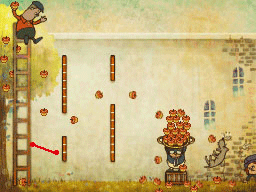 Lay down a trampoline as shown.
[edit]
Progress
4285 Picarats and 279 Hint Coins.