LS115 - Market Shortcut
This is the one hundred and fifteenth puzzle in Professor Layton and the Last Specter. To access this puzzle, you must talk to Nabby. In order to solve this puzzle, you must create a new path that would make it possible to cross over every path just once.
[edit]
Messages
[edit]
When Failed
Too bad!
This is a tough one, isn't it?
Don't give up!
[edit]
When Completed
Correct!
What a convoluted path to traverse! If it only went directly from the entrance to the exit, you wouldn't have to take so many detours!
[edit]
Solution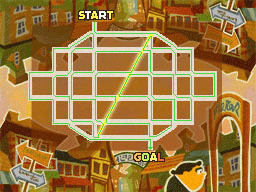 Create a path as shown.
[edit]
Progress
4585 Picarats and 279 Hint Coins.