LS116 - Stained Glass
This is the one hundred and sixteenth puzzle in Professor Layton and the Last Specter. To access this puzzle, you must talk to Scraps. In order to solve this puzzle, you must insert the glass panels into the area to create a design.
[edit]
Messages
[edit]
When Failed
Too bad!
You know what they say--
no pane, no gain!
[edit]
When Completed
"Thanks for the help!
I only asked you because I didn't want to hire a window installer."
[edit]
Solution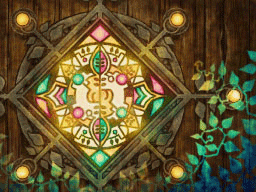 Arrange the glass panels as shown.
[edit]
Progress
4660 Picarats and 279 Hint Coins.