LS117 - A Token Puzzle
This is the one hundred and seventeenth puzzle in Professor Layton and the Last Specter. To access this puzzle, you must talk to Shackwell. After completing this puzzle, you will receive the Spindly Spires level for the Fish mini-game. In order to solve this puzzle, you must figure out which tokens each buyer is holding.
[edit]
Messages
[edit]
When Failed
Too bad!
You must have made a miscalculation somewhere. Check your work and give it another try.
[edit]
When Completed
Correct!
Once you figure out that column C has to be four heart tokens, the puzzle becomes a lot easier to solve.
[edit]
Solution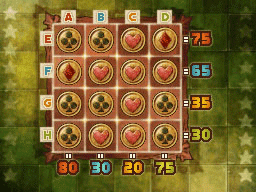 Input the tokens as shown.
[edit]
Progress
4630 Picarats and 279 Hint Coins.