LS118 - Sketchy Stars
This is the one hundred and eighteenth puzzle in Professor Layton and the Last Specter. To access this puzzle, you must talk to Louis. In order to solve this puzzle, you must place the lighter colored stars in their correct locations, to ensure each row, column, and diagonal all contain one star.
[edit]
Messages
[edit]
When Failed
Too bad!
At least two of your stars are lined up in one direction or another.
[edit]
When Completed
Star-rific!
The sketch is finally finished!
Also, as shown above, it turns out that there are two different solutions to this puzzle.
Which one did you figure out?
[edit]
Solution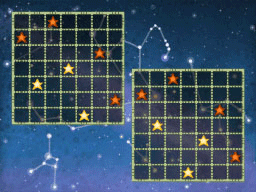 Arrange the stars as shown.
[edit]
Progress
4690 Picarats and 279 Hint Coins.