LS128 - Watermelon Bounce
This is the one hundred and twenty eighth puzzle in Professor Layton and the Last Specter. To access this puzzle, you must talk to Mimi. In order to solve this puzzle, you must lay down trampolines to help the watermelon safely reach the basket, without them hitting a wall or the ground.
[edit]
Messages
[edit]
When Failed
You cannot fail this puzzle.
[edit]
When Completed
Fantastic!
There are a number of possible routes to bounce the watermelon. Why not see if you can work out all of them?
[edit]
Solution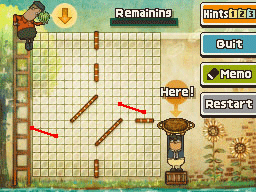 Lay down trampolines as shown.
[edit]
Progress
5140 Picarats and 279 Hint Coins.