LS129 - The Factory Door
This is the one hundred and twenty ninth puzzle in Professor Layton and the Last Specter. To access this puzzle, you must examine the blue door. In order to solve this puzzle, you must somehow use the key to unlock the door.
[edit]
Messages
[edit]
When Failed
Too bad!
Take a closer look at the key.
[edit]
When Completed
Correct!
The "C" on the key represents the doorknob, and the teeth on the side represents the buttons.
[edit]
Solution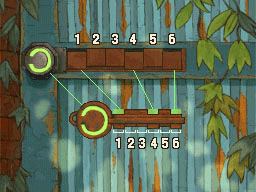 Press the buttons as shown.
[edit]
Progress
5170 Picarats and 282 Hint Coins.