LS130 - The Four Weights
This is the one hundred and thirtieth puzzle in Professor Layton and the Last Specter. To access this puzzle, you must talk to Bram. In order to solve this puzzle, you must figure out which weights were taken off the rack, arranging them in the correct order.
[edit]
Messages
[edit]
When Failed
Too bad!
Check your work to make sure you haven't made any miscalculations.
[edit]
When Completed
Excellent!
There are two possible answers: 8, 1, 9, 2 or 2, 9, 1, 8. The only way to get the 8 kg difference is to have the 1 kg and 9 kg weights next to each other.
[edit]
Solution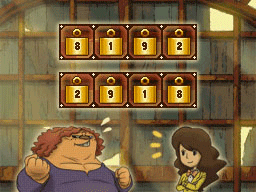 Arrange the weights as shown.
[edit]
Progress
5200 Picarats and 288 Hint Coins.