LS131 - Dark Maze
This is the one hundred and thirty first puzzle in Professor Layton and the Last Specter. To access this puzzle, you must examine the open pipe. In order to solve this puzzle, you must lead Professor Layton through the dark maze to the goal.
[edit]
Messages
[edit]
When Failed
You cannot fail this puzzle.
[edit]
When Completed
You've arrived!
Now you can finally go somewhere brighter.
[edit]
Solution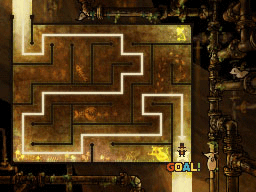 Take the route as shown.
[edit]
Progress
5230 Picarats and 291 Hint Coins.