LS134 - Engine Parts
This is the one hundred and thirty fourth puzzle in Professor Layton and the Last Specter. To access this puzzle, you must talk to the Chief Engineer. In order to solve this puzzle, you must fit all the engine parts back together.
[edit]
Messages
[edit]
When Failed
You cannot fail this puzzle.
[edit]
When Completed
Correct!
That engine you've put together looks awfully old and worn. I wonder what it powers?
[edit]
Solution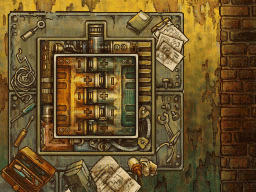 Fit the pieces together as shown.
[edit]
Progress
5355 Picarats and 297 Hint Coins.