LS135 - Blasted Plank
This is the hundred and thirty fifth puzzle in Professor Layton and the Last Specter. To access this puzzle, you must examine the big hole in the floor. In order to solve this puzzle, you must place the dynamite of differing strength on the correct pillars.
[edit]
Messages
[edit]
When Failed
You cannot fail this puzzle.
[edit]
When Completed
Cracking job!
Now you can continue onward.
[edit]
Solution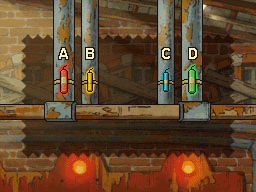 Place the dynamite as shown.
[edit]
Progress
5405 Picarats and 300 Hint Coins.