LS145 - Planet Cube
This is the one hundred and forty fifth puzzle in Professor Layton and the Last Specter. To access this puzzle, you must examine the trees on the right. In order to solve this puzzle, you must arrange the pieces on the map so that all roads connect to each other.
[edit]
Messages
[edit]
When Failed
Too bad!
You must have a road somewhere that's not connecting properly.
[edit]
When Completed
Correct!
You sweet little cubic planet map is now complete.
[edit]
Solution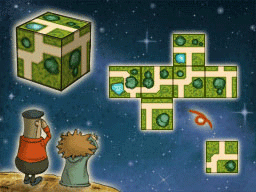 Arrange the pieces as shown.
[edit]
Progress
345 Picarats and 70 Hint Coins.