LS150 - Lily Pad Leapfrog
This is the one hundred and fiftieth puzzle in Professor Layton and the Last Specter. To access this puzzle, you must examine the stream. In order to solve this puzzle, you must jump on every lily pad before reaching the goal.
[edit]
Messages
[edit]
When Failed
You cannot fail this puzzle.
[edit]
When Completed
A marvelous ex-ribbit-ion!
His girlfrog must have been impressed with such graceful leaping.
There is more than one route to her. See if you can find them all.
[edit]
Solution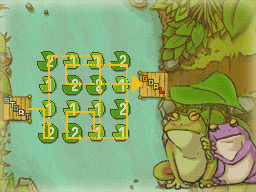 Take the route as shown.
[edit]
Progress
1500 Picarats and 141 Hint Coins.