LS151 - Coax the Kitty!
This is the one hundred and fifty first puzzle in Professor Layton and the Last Specter. To access this puzzle, you must examine the large window. In order to solve this puzzle, you must lay down fish to lead the cat to the goal.
[edit]
Messages
[edit]
When Failed
You cannot fail this puzzle.
[edit]
When Completed
Purr-fect!
You rescued the cat with seven fish. She must have been really hungry!
[edit]
Solution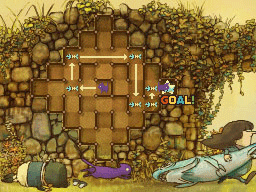 Lay down the fish as shown.
[edit]
Progress
1585 Picarats and 162 Hint Coins.