LS154 - Wire to Wire
This is the one hundred and fifty fourth puzzle in Professor Layton and the Last Specter. To access this puzzle, you must examine the chandelier. In order to solve this puzzle, you must connect the two green wires by inserting the red and blue wires into the space, making sure the colors alternate.
[edit]
Messages
[edit]
When Failed
Too bad!
Don't forget the rules...
[edit]
When Completed
Shocking!
It's a pretty complicated path from wire to wire, but everything is connected perfectly.
[edit]
Solution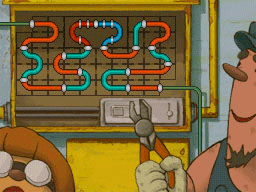 Place the wires as shown.
[edit]
Progress
2060 Picarats and 216 Hint Coins.