LS155 - One Way
This is the one hundred and fifty fifth puzzle in Professor Layton and the Last Specter. To access this puzzle, you must examine the middle rock. In order to solve this puzzle, you must figure out which arrows must be swapped in order to enter the board on an arrow, step on every panel following the directions, and exiting off an arrow.
[edit]
Messages
[edit]
When Failed
Too bad!
Did you really pass through all of the arrow panels?
[edit]
When Completed
Well done!
You're through!
[edit]
Solution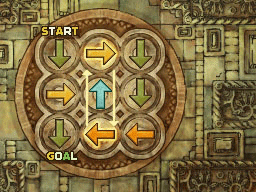 Swap the arrows as shown.
[edit]
Progress
2475 Picarats and 258 Hint Coins.