LS161 - Lily Pad Leapfrog 2
This is the hundred and sixty first puzzle in Professor Layton and the Last Specter. This puzzle can be accessed in Professor Layton's Challenges. In order to solve this puzzle, you must jump on every lily pad before reaching the goal.
[edit]
Messages
[edit]
When Failed
You cannot fail this puzzle.
[edit]
When Completed
Terrific!
Our froggy friend seems to have jumped into love with both feet.
[edit]
Solution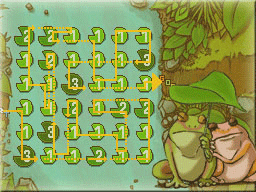 Take the route as shown.
[edit]
Progress
6288 Picarats and 300 Hint Coins.