LS162 - Cube Hammer
This is the hundred and sixty second puzzle in Professor Layton and the Last Specter. This puzzle can be accessed in Professor Layton's Challenges. In order to solve this puzzle, you must arrange the symbols on the cube net so that the arrangement matches that of the other cubes.
[edit]
Messages
[edit]
When Failed
Too bad!
Make sure you pay attention to the orientation of each symbol before placing it on the cube.
[edit]
When Completed
Bam!
The symbols need to be placed on the replacement cube as shown above to match the rest of the hammer's cubes.
With the replacement cube in place, the hammer is again ready to...hammer!
[edit]
Solution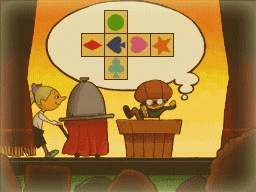 Arrange the symbols as shown.
[edit]
Progress
6338 Picarats and 300 Hint Coins.