LS165 - Three Blocks
This is the hundred and sixty fourth puzzle in Professor Layton and the Last Specter. This puzzle can be accessed in Professor Layton's Challenges. In order to solve this puzzle, you must figure out which pieces fit together.
[edit]
Messages
[edit]
When Failed
Too bad!
Try visualizing how the pieces look from different angles.
[edit]
When Completed
Correct!
A fits together with E, B with F, and C with D.
[edit]
Solution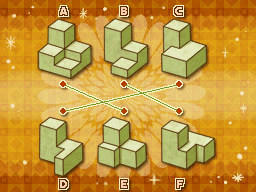 Fit the pieces together as shown.
[edit]
Progress
6567 Picarats and 300 Hint Coins.