LS167 - Bomb Bounce
This is the hundred and sixty seventh puzzle in Professor Layton and the Last Specter. This puzzle can be accessed in Professor Layton's Challenges. In order to solve this puzzle, you must lay down trampolines to help the bomb safely reach the other side, without it hitting a wall or the ground.
[edit]
Messages
[edit]
When Failed
You cannot fail this puzzle.
[edit]
When Completed
Bombastic!
You bounced the bomb over to your partner without it exploding. Nice!
If you enjoyed this puzzle, why not try it again and see if you can find any alternate trampoline arrangements?
[edit]
Solution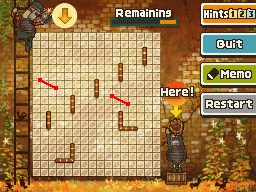 Place the trampolines as shown.
[edit]
Progress
6727 Picarats and 300 Hint Coins.