LS169 - Mysterious Maze
This is the hundred and sixty ninth puzzle in Professor Layton and the Last Specter. This puzzle can be accessed in Professor Layton's Challenges. In order to solve this puzzle, you must guide the ball through the double-sided maze to reach the exit.
[edit]
Messages
[edit]
When Failed
You cannot fail this puzzle.
[edit]
When Completed
A-maze-ing!
Did you notice that you had to let the ball fall into the same hole twice?
It's a pretty tricky little twist, especially when you're in the dark.
[edit]
Solution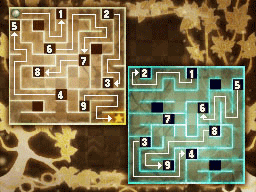 Take the route as shown.
[edit]
Progress
6901 Picarats and 300 Hint Coins.