Life in Chillington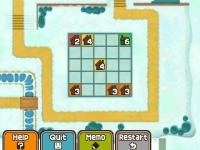 Life in Chillington is a set of daily puzzles released for Professor Layton and the Azran Legacy. It is the sixteenth set of daily puzzles. This set is similar to the Kingdoms set from Professor Layton and the Miracle Mask.
"Build fences around the houses and divide up the snowy town!"
[edit]
How to Solve
Each house contains a number that indicates how many squares of land it requires, and must be divided accordingly. Slide the stylus along the Touch Screen to create a border, making sure one house is encircled. A red border indicates a wrong number of squares framed or more than one house encircled, while a blue frame shows the correct amount of squares in a frame.
You must divide the area with each house receiving the correct amount of land to solve the puzzle.
[edit]
List of Puzzles