Little Lost Ducklings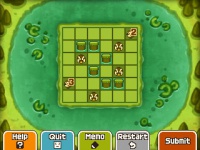 Little Lost Ducklings is a set of daily puzzles released for Professor Layton and the Miracle Mask. It is the fourteenth set of daily puzzles that were revealed.
"The tranquility of the duck pond has been shattered by the quacking of lost ducklings. Reunite them with their mothers to stop their tears, but be careful. They're still wild."
[edit]
How to Solve
Families of ducks consists of one mother and four ducklings; the ducklings stand in order behind the mother. To place a mother duck, touch a square. Slide the stylus from the mother duck to place ducklings behind her. Mother ducks are represented by duck heads, and ducklings have numbers beside them, representing where they stand in line.
The ducks and ducklings already placed cannot be moved. When families of ducks placed next to each other, or when a mother duck faces another family of ducks, they will fight. This will be seen on the top screen.
You must place each family of ducks on the grid without any fighting to solve the puzzle.
[edit]
List of Puzzles