MJ023 - Hoopla Challenge
This is the twenty-third puzzle you'll encounter in Layton's Mystery Journey: Katrielle and the Millionaires' Conspiracy. To access this puzzle, you must talk to Benny. To complete the puzzle, you must correctly position the hoops according to the number that must be placed around each pin.
[edit]
Messages
[edit]
When Failed
You cannot fail this puzzle.
[edit]
When Completed
You did it!
Nice one!
[edit]
Solution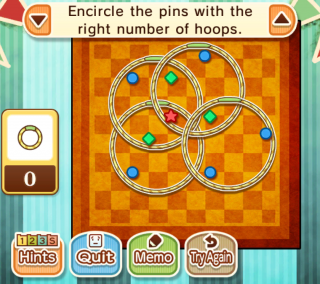 Place the rings as shown.
[edit]
Progress
860 Picarats and 74 Hint Coins.
Last edited by
Squiggle
on 28 August 2017 at 02:54
This page has been accessed 93 times.